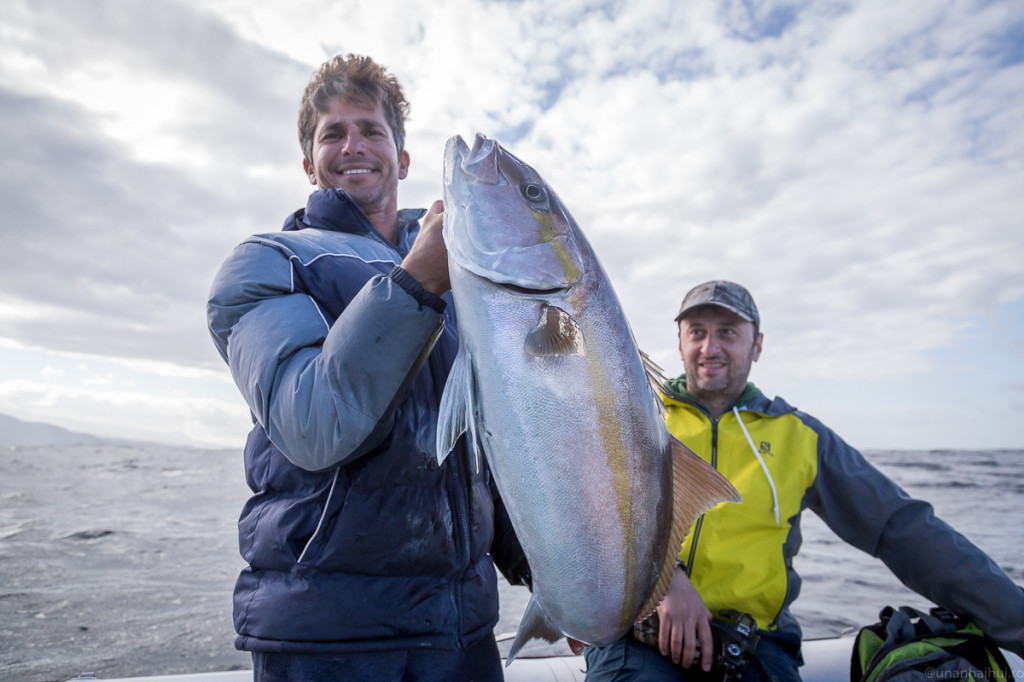 From the smallest village in the north to the crowded resorts in the south, you will be hard pressed to find a traditional Tenerife restaurant that is not boasting the fresh fish on the first pages of the menu. However, the curious tourist will notice there is only one fish market on the island and the marinas host sail yachts and speed boats rather then fishing vessels.
So where does this fresh fish comes from, how fresh it really is and how does the ecosystem feels about it?
We thought it would make a nice vacation activity to try and find out, without really believing we would be able to. But a certain amount of luck, a little inspiration and a bunch of amazingly outgoing locals made it possible.
That is how we ended up in Juan Carlos' boat and then further, to Restaurant Aristides, so we can tell exactly how long it takes for a fish to reach the plate.
The old trade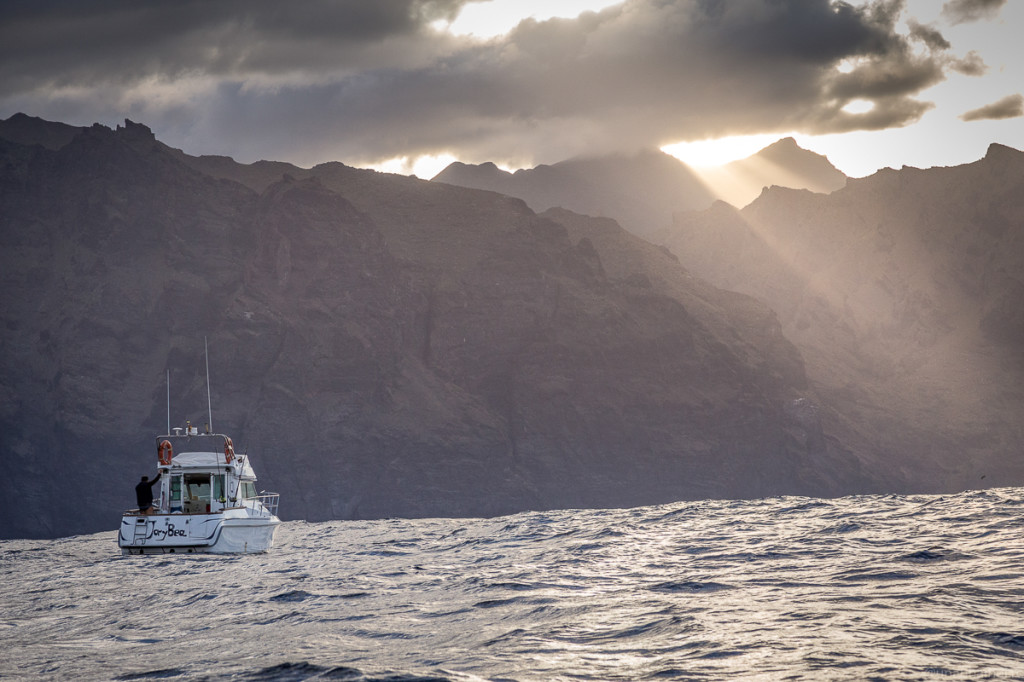 At 7 o'clock in the morning we reach the marina in Los Gigantes.
Two evenings ago the streets were crowded with cars and peopl, all looking for the perfect spot to watch the sunset on the huge cliffs towering the town. Now they are completly empty and we are one of the only two cars in the marina.
There is no sign of life around, and more importantly no sign of a coffee of any kind. It will have to do as Juan Carlos and his friend Vito are waiting for us right on time, anxious to start their fishing day.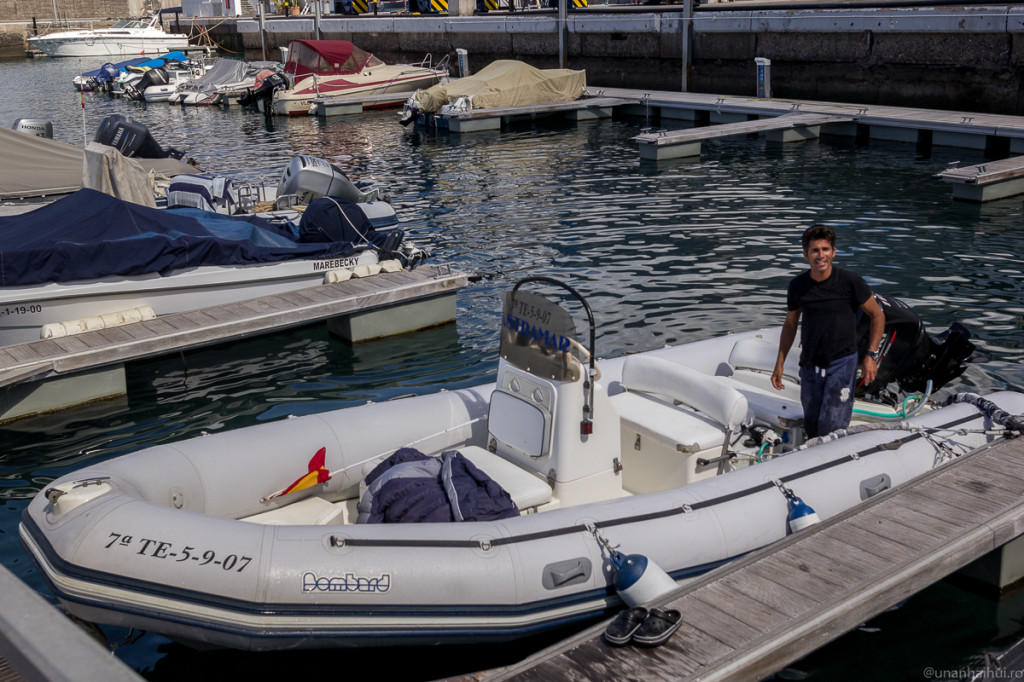 By the time the introductions are done the Zodiac is already jumping the waves, as graceful and stable as one would expect from a boat with its reputation. In less than half an hour we reach the spot, one mile out at sea, and the boys start their work.
The routine is simple.
Extract one live squid from the bucket, impale it in 2 reasonably sized hooks – about the size of the hook of a shirt hanger – ignore the ink and the small tentacles that attach to the fingers and lauch it at the end of a hundred foot thread. No poles, no floaters and no complicated knots.
Then just wait.
While waiting Juan Carlos is gazing over the waves but his mind is concentrating on the thread in his hand. At times it tenses slightly wich is a sign the squid is sensing danger and trying to flee. It is exactly what he is waiting for. There is a good chance the fish will attack soon and he will have to control it if he wants to bring it home. If not, the squid will be lost and he will have to start over.
Suddenly his muscles contract and the face changes with a grin we learned to recognize. If it stays on for more than a minute the fish is ours. Five minutes and seventy feet of thread later we admire up-close a really nice pargo – about 2 feet long and over 28 pounds in weight – the third one in less than an hour.
It's gonna be a good day.
As the sea swings the boat we repeat the routine ten more times.
Juan Carlos throws while Vito is fine stearing the boat. We lose 5 squids, two of them eaten by fish too small to keep. They return to the ocean in surprisingly good condition while we quickly vacate the area – if the small ones are here, then our catch is somewhere else.
But it's still good.
Our ice chest contains 8 big fish, almost too much to fit in. Juan Carlos is singing – in a surprisingly good voice – while washing the ink off.
It's time to head back and I can swear I am able to smell the coffee from a mile away.
Garachico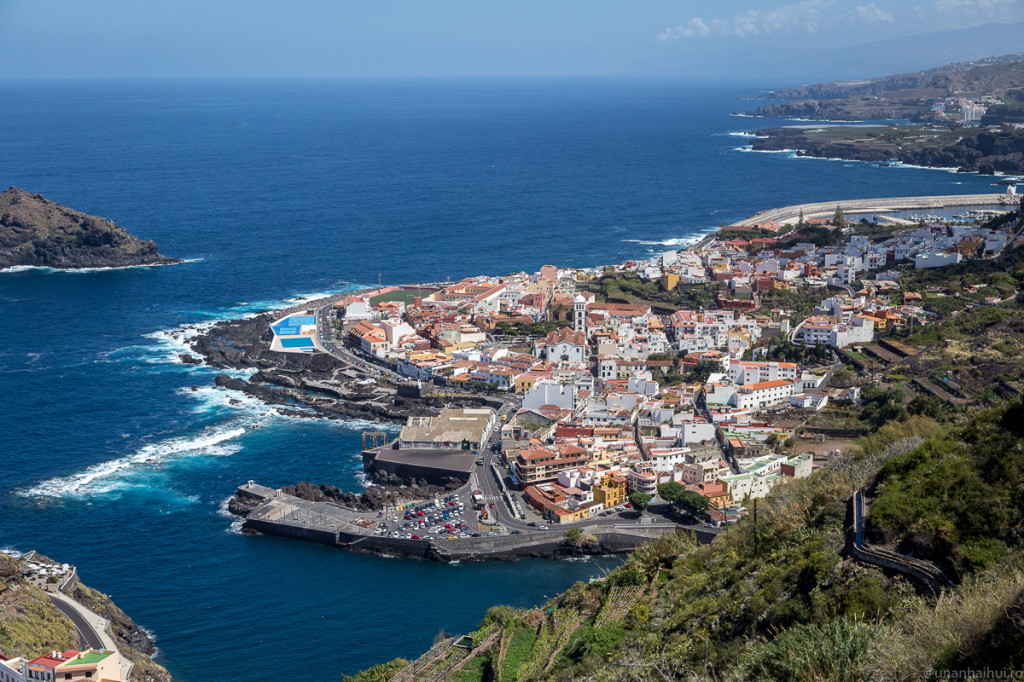 It takes about half an hour to catch our breath in the marina, while mooring the boat, giving it one last wash off and exchanging a few stories about fishing, tourism and Vito's homeland, Dominican Republic. There is one question I cannot get out of my head: was this a good fishing day or not?
"A fishing day is good if at the end of it I'm healthy, the boat is ok and I can get out again the next day" is the only answer I get and I have to take it.
This concludes the break. There is still work to do, get the fish to its destination.
Time to get into our cars and head up, towards the north coast, on a narrow winding road offering large ocean views. Once we reach the top and start descending, the landscape is changing. Big cliffs and volcanic drops leave no space for beaches to attract the crowds. What they do allow for is a few small villages that keep some century old colonial charm.
One such place is Garachico.
After one hour of driving it greets us with a old fort – the first ever built in the Canaries – and then leads us on narrow cobbled streets, along old houses, horse carriages and a sixteenth century monastery, to the main square, locally regarded as the finest in all Tenerife.
It's here, under the clock tower of the medieval church, where we find a small local family restaurant, our final destination and a regular client of Juan Carlos.
And for today the only one.
Restaurant Aristides – de la mar al plato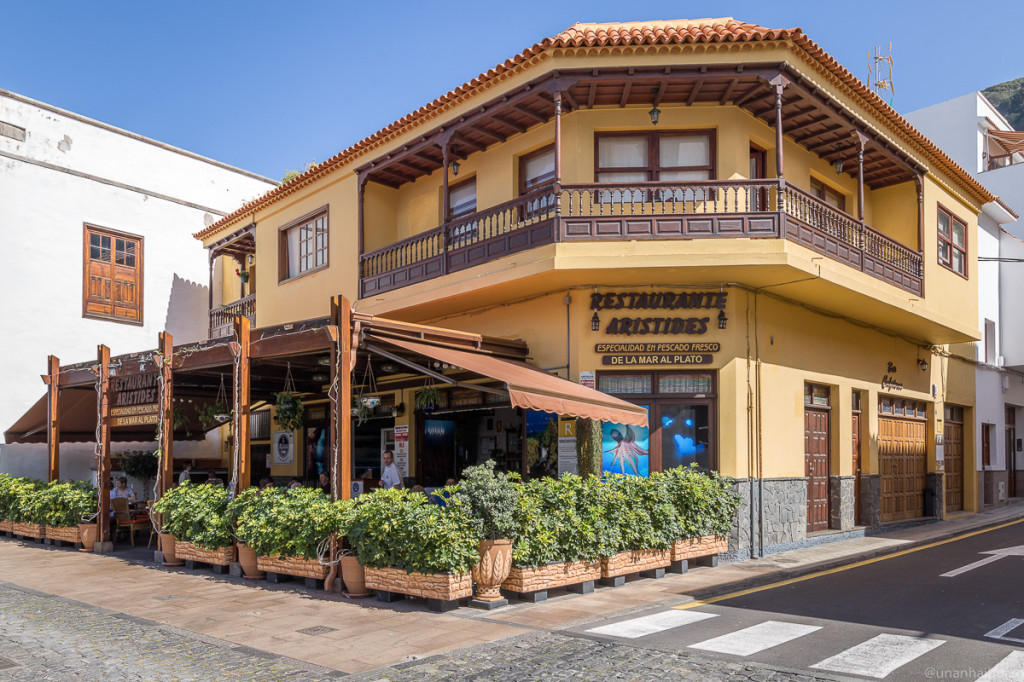 We enter the door and meet Angeles and Jose Manuel who greet us and instantly agree to let us follow the fish in the kitchen as if its the most common thing to ask for. Three cooks are buzzing around and between pots of green herbs, sizzling grills and, well, us.
Doing our best not to stand in the way or burst in flames, we miss the negociation for the fish price and also feel a bit out of place. That is until Angeles takes us under her wing.
She is very proud that her restaurant always serves fresh fish and explains how that also allows for sustainability. The government has issued guides and certification for restaurants (pesca artesanal) that only accept fish of a certain size. If it's too small then it's still young and should be left in the sea to grow, if it's too large then it has good genes and should be allowed to pass them on.
Aristides is one of the places that has earned it and if most of them do so, the sea won't feel the burdain of tourism.
While we learn about this the nicest looking fish gets a front place on the ice in the display window at the same time as another one is cut into generous stakes.
It's best served with boiled potatos – papas arrugadas – and traditional Canarian sauces – mojo rojo and mojo verde – all cooked here, as Angeles explains, from locally grown ingredients.
Since the goodies take time, we start on an octopous – Juan Carlos swears by it – and oil boiled shrimps – gambas al ajillo – our favourite.
And of course a dry white wine so that everything slides down in style.
The journey of a fish
It's a little over 2 o'clock in the afternoon and the fishing day is finally over. Time to chat and laugh around a few drinks. The boys still have a one hour drive back home, but there is no rush. Tomorrow they won't go back at sea. Maybe tbe day after if the weather is good.
For the people at Aristides, the work is just begining. The place is full and will stay that way until ten in the evening. They still find time for sharing a few stories – about the challanges of their new fusion menu and starting a family business in general – but our energy is almost depleted and we still have a long drive ahead.
The moment we put our first step on the boat feels like days away.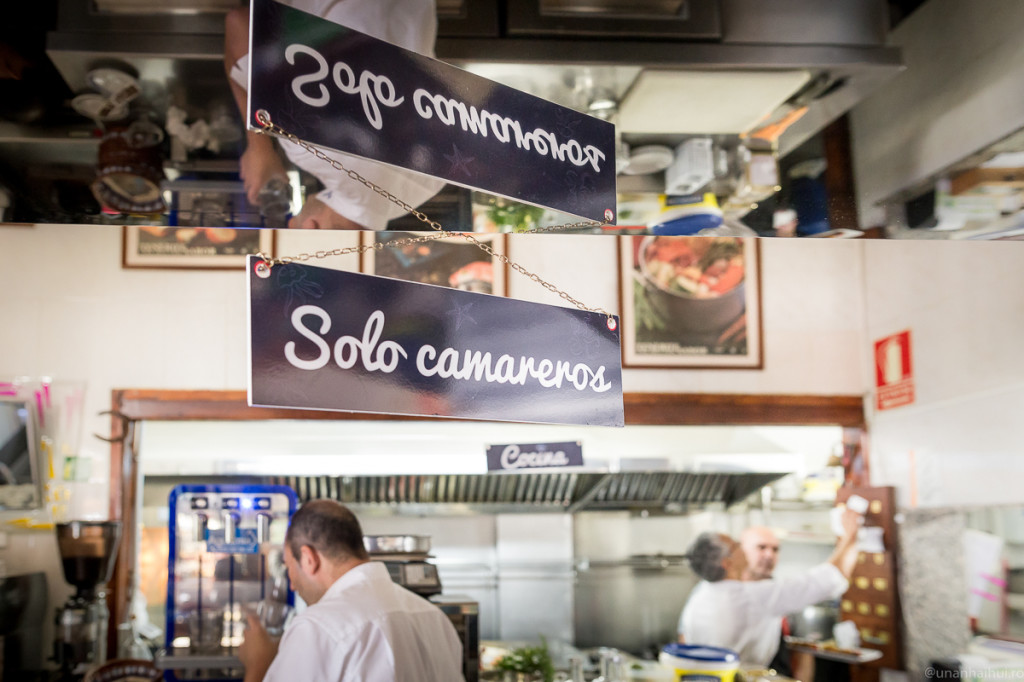 For us this was a vacation day like no other. We made new friends and also found out how long it takes for a fish to reach the plate.
You want to know the exact answer? In our case it took exactly 4 hours and 15 minutes.

Usefull information:
Aristides restaurant is located right in the main square of Garachico and is one of the best in Tenerife. We are not the (only) ones who say it, but the number of positive reviews from satisfied customers.
Their Facebook page is https://www.facebook.com/restaristides/ and on their site you can find more infos about the products they offer.
The restaurant is closed on Fridays and Saturdays.
It is a winding road down to Garachico so safe driving is recommended.
Many thanks and greetings to Angeles, Jose Manuel, Juan Carlos and to the guys from Tropic  car rental company, without whom this material would not have come to life.
Comentarii
Citeste mai departe